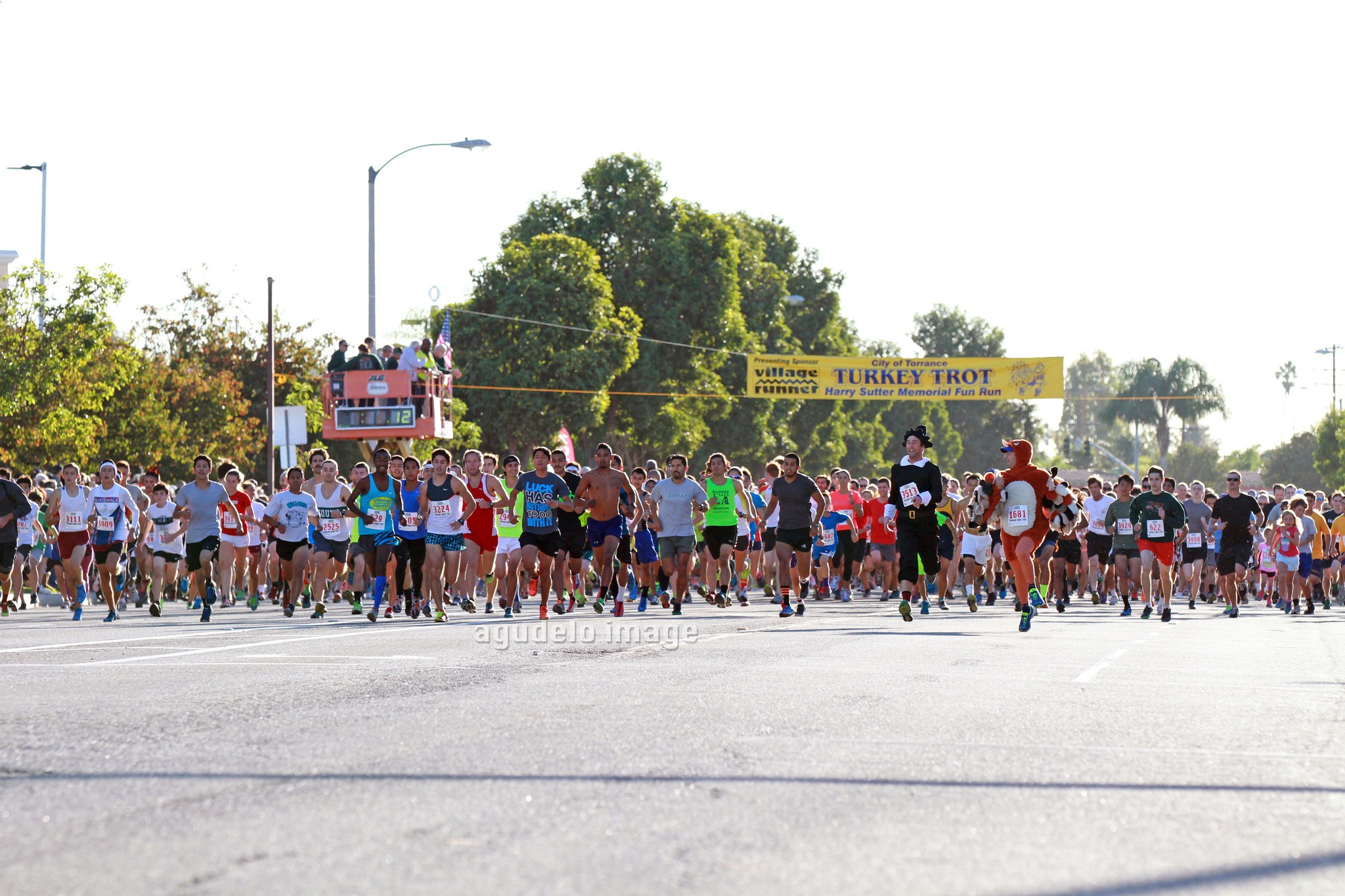 42ND ANNUAL HARRY SUTTER MEMORIAL TURKEY TROT FUN RUN
Village Runner is a proud sponsor of the 42nd annual Torrance Turkey Trot. Some details are provided below, but please be sure to visit the race's official website here for additional information.
Race Information:
42nd ANNUAL HARRY SUTTER MEMORIAL TURKEY TROT FUN RUN
The City of Torrance Community Services Department invites the entire family to participate in our Annual Harry Sutter Memorial Turkey Trot Fun Run. This three-mile fun run will begin at 8:00 a.m. on Thanksgiving morning. After the fun run, there will be a spectacular post run prize drawing for mountain bikes, dinner vouchers, gym memberships and many other outstanding prizes. All registered participants will receive a commemorative Turkey Trot shirt. Please note, the Turkey Trot will take place rain or shine.
It's easy to do, it's fun, it's affordable, and an inspiring way to start a great American Holiday, it's the Annual TORRANCE TURKEY TROT!!
Photo Gallery Compliments of the Village Runner
This year there will be a FREE photo gallery from this year's Turkey Trot compliments of the Village Runner shot by Kim D. West Photography! Once available, photos will be posted here.
How to Register
1-Walk-in/Mail-in registration: Fill out an ENTRY FORM and return it to:
Torrance Community Services Department
3031 Torrance Boulevard, Torrance CA 90503,
Attention: Turkey Trot / Registration office is open Monday – Thursday and every other Friday from 8:00 a.m.-5:00 p.m.
Make checks payable to the "City of Torrance." Race fees are non-refundable.
Walk-in and Mail-in Registration will be available September 6 – November 18
2-ONLINE REGISTRATION PROCEDURES. Click here to register online
The City of Torrance is no longer using a third party for online registration. If you do not have an existing account, you must create one.
When creating your account, you may add all family members. If you have an existing account, please contact the Registration Office at Enroll@TorranceCA.Gov or (310) 618-2720 to add family members to your existing account (they must reside in your household, otherwise they must have their own account). A 2% surcharge will be charged for all credit and debit card transactions.
ALL INDIVIDUALS MUST BE REGISTERED IN ORDER TO PARTICIPATE IN THE TURKEY TROT FUN RUN. Each Participant will be provided with an official race number, which MUST be worn on the front of their shirt and be visible at all times during the event.
Visit the Official Torrance Turkey Trot Site
For fees, timing, and more information, please visit the official website HERE
Picture credit: Adrian Agudelo