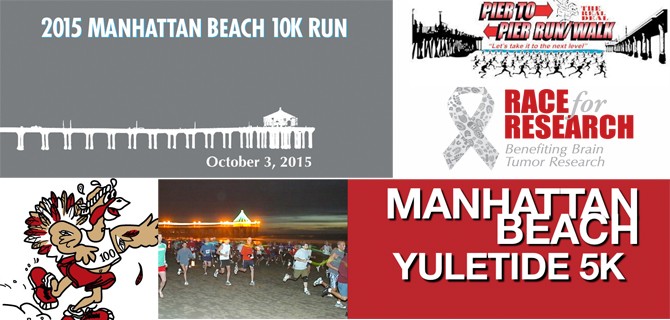 It doesn't feel like it, but Fall is officially here!  That means the 38th annual Manhattan Beach 10K and a bunch of other great local events – fun for the whole family!
Local Races
October
October 3:
38th Annual Manhattan Beach 10K
Details Here – Online registration is closed, but you can still register at the Village Runner in MB
October 11th:
Long Beach Marathon and Half Marathon
Register Here
Save $5 OFF with code: RUNLBAMBSP
October 18th:
USC's Quench the Fire 5K/10K – Van Nuys
Register Here
Save $5 OFF with code: trojan
October 25th:
Skechers Pier to Pier Friendship Walk
Register Here
November
November 7th:
GI Joe's Pier to Pier Run / Walk – Hermosa Beach
Register Here
November 8th:
Heroes of Hope 5K/10K and Kids' Run – Dockweiler State Beach
Register Here
Packet pickup will be at the Village Runner in Manhattan Beach on November 7th from noon to 5pm
November 14th:
Palos Verdes Half Marathon
Register Here
Save 15% OFF with code: laceuppresley
November 22nd:
We Run the City 5K (USC vs. UCLA) – Los Angeles
Register Here
Save $6 OFF with code: 6OFF
November 26th:
36th Annual Torrance Turkey Trot
Register Here
December
December 12th:
Manhattan Beach Yuletide 5K
Details Coming Soon
 Store Fun Runs
Our stores in Redondo and Manhattan Beach have free, weekly fun runs every Tuesday, Thursday, and Sunday.  During some of these fun runs, our vendors come out and let our group of runners and walkers test out shoes for free!  It's a great way to try before you buy, and better yet, a great way to meet lots of other runners and walkers in the South Bay!  We hope you can join us soon!
Don't forget to follow us on Facebook and Instagram!
Facebook: Village Runner Redondo Beach
Facebook: Village Runner Manhattan Beach
Instagram: Village Runner