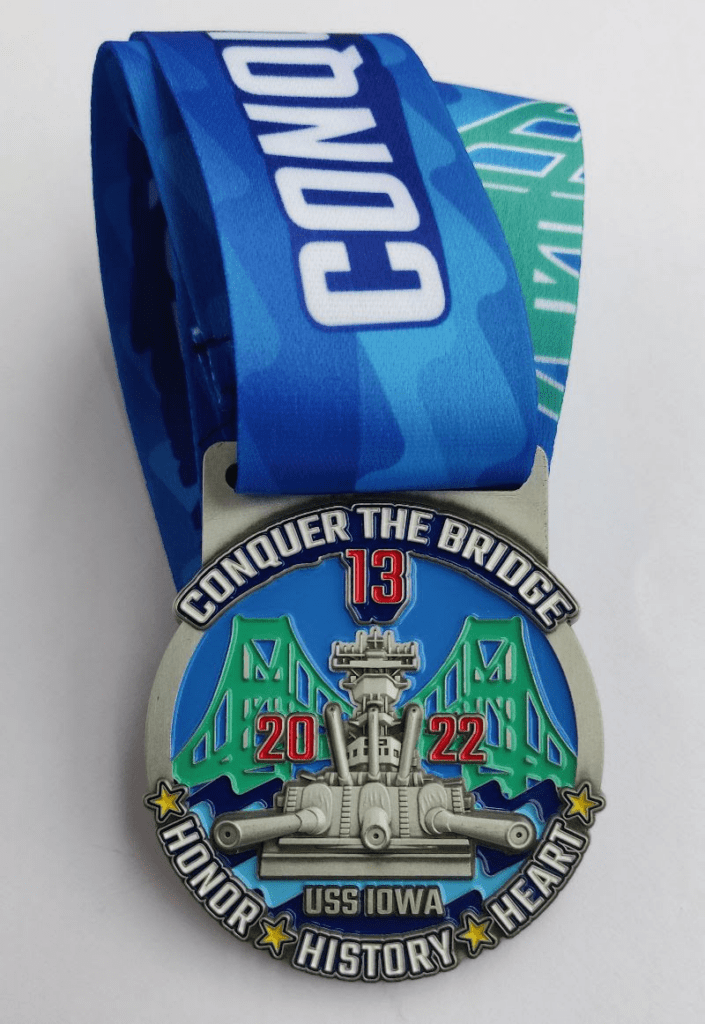 We are honored this year to pay homage to the incredible Battleship USS IOWA. For over a decade we have shared San Pedro's waterfront with the historic battleship. We also, in many ways, recognize that all of you share similar traits as the IOWA. Our medal is lined with 3 words, HONOR, HISTORY, and HEART. Think about that for a moment. Participating in CONQUER THE BRIDGE gives all of us personal meaning with those 3 words.
The last few years have truly been a war for all of us, and on September 5, Labor Day Monday, we all have a chance to HONOR our lives, show HISTORY that we are truly survivors, and that we have the HEART to CONQUER THE BRIDGE in 2022!
Spread the word to your family and friends and be very proud of what you will accomplish on September 5. This is a great medal that you will have earned and give a salute to the USS IOWA as you pass her by on Labor Day Monday 2022.
We look forward to seeing all of you again this year and please feel free to reach out to us if you have any questions at info@conquerthebridge.com.
As always, THANK YOU for being an important part of CONQUER THE BRIDGE 13!
MPH
Race Director-Box Carrier
We are sending this email on behalf of our friends at Conquer The Bridge. This is not a Village Runner event. For more information visit the race website by clicking the blue button below.