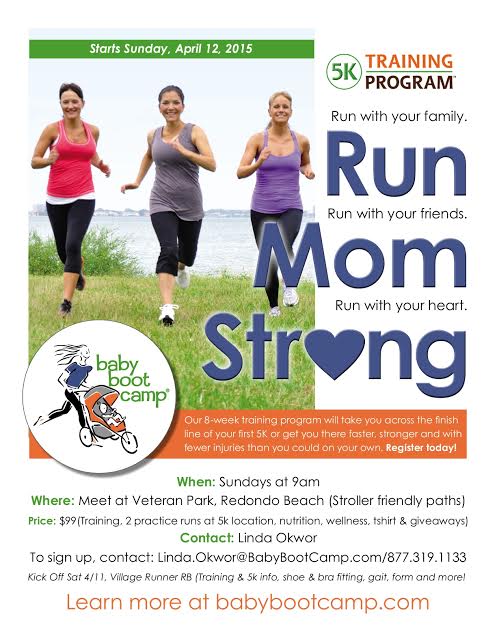 Moms, Dads and families, join us for our 5k Training program. Whether training by yourself, with family, your kiddo or friends, our 5k program will take you across the finish line and get your there faster, stronger and with fewer injuries. Our paths are stroller friendly so make it a family outing!
When: April 12 – May 24th; Sundays at 9am
Where: Meet at Veteran Park, Redondo Beach (Stroller friendly paths)
Price: $99(Training, 2 practice runs at 5k location, nutrition, wellness, tshirt & giveaways)
To sign up, contact:  Linda Okwor; Linda.Okwor@BabyBootCamp.com / 877.319.1133
Kick Off: Sat 4/11, Village Runner RB (Training & 5k info, shoe & bra fitting, gait, form and more!
Our kickoff will be on Saturday April 11th at Village Runner in Redondo Beach at 11am (11 -1pm). We will do special shoe and bra (for the ladies) fitting, go over training & 5k race, provide guidance on running, stroller and gait form, as well provide membership information, shirts, goodies and more.
We will meet at Veteran Park for the training. Kids, babies and strollers are welcome. All adults must be registered and paid.
The 5k race that we are doing is the Club MomMe Stroll N' Run on Sunday May 31st.
South Coast Botanic Garden
26300 Crenshaw Boulevard
Palos Verdes Peninsula, CA 90274
Sunday, May 31, 2015 from 9:00 AM to 12:30 PM (PDT)
The details will be covered at our kickoff on 4/11 at 11am at Village Runner
Village Runner
1811-A Catalina Ave.
Redondo Beach, CA 90277
(310) 375-2626
Our awesome sponsors include: Village Runner, Club MomMe, Hulafrog, Mother Nuture Center, Wondertree Kids, South Bay Galleria, Plaza El Segundo, Beach Cities Health District, The Counter, Urbansitter.com, DoorDash.com, Suja, Fruigees, Gogo Squeez, Nature's Bakery, Kind Snacks, Zico and Zouq Foods. They will be providing services, goodies and giveaways for our training and race. Please take the time to visit and support them!!
If you have any questions, please contact Linda.Okwor@Babybootcamp.com or call 877.319.1133
To Fitness, Fun and Family!
Linda Okwor
Mom, Owner, Fitness &
Nutrition Specialist, Published Author