Redondo Beach, CA – 'Village Runner Saint Patrick's Day 5K' Mar. 13, 2016
Rebecca Soni – Honorary Host
Olympic gold medalist and South Bay local Rebecca Soni of Redondo Beach has been named Official Race Starter and Honorary Host for the 13th annual St. Patrick's Day 5K, taking place in Redondo Beach on March 13th. Soni, who won three Olympic gold medals and three Olympic silver medals, is now a fitness and nutrition buff promoting health and wellness activities. Soni is now a mentor to young athletes, developing the next generation of American Olympic swimmers.
Soni's road to Olympic success was difficult. At the age of 16 she began experiencing an irregular rapid heartbeat during training, often beating more than 300 times a minute. She was diagnosed with a condition known as supraventricular tachycardia (SVT). After enduring this condition for several years, Soni underwent a cardiac ablation procedure to fix the problem. Doctors inserted electrical energy through a catheter to eliminate the extraneous tissue in her heart. Soni did not let this event stop her, as she went on to achieve even greater success.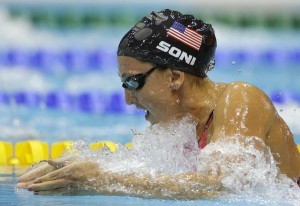 Soni, who began swimming at the age of 10, won six NCAA Championship titles during her time at USC. Soon after, she became a decorated international competitive swimmer. She won 22 medals total in major international competition, six of those being Olympic medals. She is a member of the current record holding US 4×100 meter relay National Team, and is a former world record holder for the 200 and 100 meter breaststroke.
She has been awarded with many impressive honors throughout her swimming career. She was given the Swimming World's "World Swimmer of the Year" award two years in a row, and the "American Swimmer of the Year" award three years in a row. Today, she continues to live an active and nutritious lifestyle as she enjoys yoga, hiking, stand-up paddle boarding, boxing, and healthy eating. Soni now focuses her passionate drive toward mentoring young athletes to help them fulfill their athletic dreams. She is also a global advocate for the "Girl Up" campaign, which engages adolescent girls to stand up for girls everywhere and empower each other. It is an honor to have her as our official host and race starter for the 13th annual St. Patrick's Day 5K.
Along with being the honorary starter of the event, Soni will also be participating in the race. She loves the South Bay and all of the fitness opportunities it has to offer. "Redondo Beach has provided me with a grown up playground for fitness and fun," said Soni. "I couldn't think of a better place to live, play, run on the sand, and enjoy all the unique traits that make up this place. It means a lot to me to be part of such a wonderful community."
In Memory of Chase Stecyk
The Saint Patrick's Day 5K race honors the memory of Chase Stecyk, who grew up in Redondo Beach. Race participants are encouraged to wear green in honor of
Chase's favorite color and for his favorite holiday, Saint Patrick's Day. Chase was just eleven years old when he died of a tumor that paralyzed him from the waist down. In memory of Chase, Director Mike Ward has renamed the Kid's Race to 'The Chase Stecyk Leprechaun Dash for Gold'. Proceeds from the race will go to charities supporting the memory of Chase Stecyk, in addition to helping out local high school cross country and track teams.
Charity Beneficiary – American Cancer Society
The Saint Patrick's Day 5K charity beneficiary is the American Cancer Society.  Partnering through Relay for Life, a percent of the proceeds will support the charity's cancer research and free patient programs. "Your mission of the 13th annual Saint Patrick's Day 5K supporting the memory of Chase Stecyk, aligns ideally with our mission," stated Maggie Walsh of the American Cancer Society. "Money will support the American Cancer Society Relay for Life of beach cities and the Relay for Life of Torrance," stated Andrew Johnson of the American Cancer Society. The American Cancer Society will put these donations to work, investing in groundbreaking research in every type of cancer and providing free information and services to cancer patients and their caregivers.

The 5K run/community walk and the Chase Stecyk Leprechaun Dash for Gold return to Redondo Beach on March 13th with the Race Expo starting at 6:30 am, the 5K at 8 am, and the kids races at 9:30 am in Riviera Village. All participating runners will receive a unique St. Patrick's Day themed T-Shirt. The race also features chip-timing and age division awards. There will be cash prizes awarded to the top three male and female winners. The men's overall winner and the women's overall winner will get $200, second place, men and women, $125, and third place, men and women, $75.
Sponsors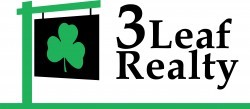 We're proud to welcome our new 2016 race sponsor for the St. Patrick's Day 5K, 3 Leaf Realty! Some of their gorgeous properties are even along our beautiful course along the Esplanade with stunning views of the Pacific Ocean.
Lucky 13!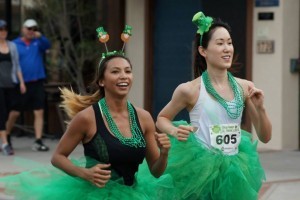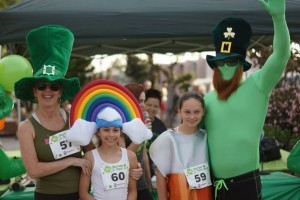 The St. Patrick's Day 5K has become a tradition across the entire South Bay Beach Communities. The turnout is expected to be bigger than ever for the event's "lucky 13th" year. Activities include shamrock face painting, green and gold outfits, and a costume contest, making this one of the most exciting St. Patrick's Day events outside of Ireland!
Be sure to dress up in your St. Patrick's Day green for the annual Costume Contest! There will be a sea of green as the Costume Contest keeps the energy going. Runners will show up in their wackiest (and greenest!) St. Patrick's Day attire! You may even find a Leprechaun or two running the race! There will also be a 2-day Health and Fitness Expo, where local vendors and music will pump up race goers.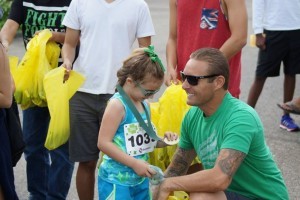 All participating runners will receive a unique St. Patrick's Day themed T-Shirt. The race also features chip-timing and age division awards. There will be cash prizes awarded to the top three male and female winners. The men's overall winner and the women's overall winner will get $200, second place, men and women, $125, and third place, men and women, $75. There will also be a team competition where the team with the top five fastest combined times will earn a special award. So go green and come dressed in your best St. Patty's Day outfit to enjoy the party! Race registration is $40 for adults and $30 for kids. Runners can register now at the Village Runner Website, www.villagerunner.com