Montgomery to receive Pathfinder Award at the race.
Kayla Montgomery who, despite having multiple sclerosis, has become an elite runner. She will be running in the Village Runner 4th of July 5K presented by UCLA Health in Redondo Beach, CA. This race benefits the American Cancer Society. Partnering through Relay for Life, a percent of the proceeds will support the charity's cancer research and free patient programs.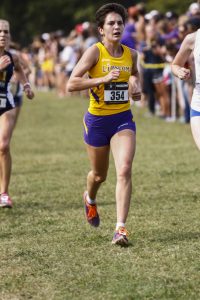 Montgomery will be honored with the Pathfinder Award for forging her own unique path overcoming adversity to become an award-winning long distance runner in high school and now at Lipscomb College. MS has caused Montgomery to lose feeling in her legs as her body temperature rises. Every time she crosses the finish line she collapses in a heap while a coach or teammate catches her. Ice cold water is poured on her legs immediately following the race to calm the misfiring nerve fibers blazing beneath her numb skin.
"I continue to try and push myself to defy the odds so that I can inspire those with MS who gave up," said Montgomery. "I want people to know that regardless of what your situation is, it does not have to come out on top, and that there is always a way. Of course, having MS could very easily put limitations on my life if I let it, but that is something I do not plan on ever doing."
Despite these challenges, Montgomery has become a successful Division I athlete at Lipscomb University in Nashville and continues to be an inspiration to everyone who hears her story. When she is not running, she is sharing her story to raise awareness of the disease and help others.
"I often receive emails and letters from people with or without MS, and I do my best to try and respond to all of them," said Montgomery. "I really enjoy receiving these letters, because they encourage me and reassure me that I am doing something good through having MS."
Montgomery was diagnosed with multiple sclerosis in 2009 after falling on her neck and tailbone in a soccer game. She was much younger than most who are diagnosed with the disease, leaving her feeling very alone and scared. She hid her diagnosis with people at school and chose to avoid confronting the issue with her parents. Montgomery ultimately chose to persevere through her diagnosis and took up running in 2010. Running has quickly become her saving grace and she is faster now than she was before she was diagnosed. Due to her numb legs, she was forced to create a whole new way to run by relying on the movement of her arms to control her pace. She chose not let multiple sclerosis hold her back, and won the North Carolina high school state title in the 3,200 meters in 2013 and was the captain of the team.
"My family, friends, and teammates have been the greatest support system through all of the challenges I have to face with MS," said Montgomery. "My mom has been a saint every step of this journey. The one thing that I was worried about after my diagnosis was that people would treat me different and they have all treated me as an equal and as if nothing is wrong with me at all. That is all I could have ever asked for."
Montgomery continues her running career at Nashville's Lipscomb University with a Division I scholarship. She is studying to earn a psychology degree and does not have any intention of letting MS put any limitations on her. Despite the ravages of MS to her body, she trains three hours a day, six days a week, covering 60-75 miles. In her freshman year, she helped Lipscomb win a fourth successive conference championship in November, placing 13th overall and seventh for her team in the 5K race.
When asked what it is like to run for a high quality team like Lipscomb College, Montgomery says she feels blessed. "Naturally, the intensity of training at the collegiate level is a lot higher than that of high school, but I have the amazing opportunity to train with some of the most talented runners I have ever known," said Montgomery. "I find myself constantly learning from the girls on my team and I am beyond honored to have been recruited to run for such a strong team."
Montgomery is favored to be a top finisher at the Village Runner 4th of July 5K presented by UCLA Health with a personal best of 17:22. The 4th of July 5K is known for its competitive runners and fast paced finishes and Montgomery will only add to the excitement.
"I am beyond stoked about this amazing opportunity," said Montgomery. "I am so honored to have been asked to come out to this event and I cannot wait for this once in a lifetime experience!"
Event Details
Registration is now open for the 23nd annual Village Runner 4th of July 5K presented by UCLA Health. The race is expected to have 3,000 to 4,000 participants for the 5K Run and Community Walk. The race begins Monday, July 4th, at 8 a.m. in Riviera Village, Redondo Beach, CA. Following the 5K, there will be the Firecracker Dash races for kids ages 12 and under. The Firecracker Dash begins at 9:30 a.m. There will be a post-race party at Rock & Brews featuring food and drink specials and exciting raffle drawings.

UCLA Health, which has continued its expansion to better serve the South Bay, is the event's presenting sponsor and exclusive health care provider.  UCLA Health now has offices in the South Bay communities of Manhattan Beach, Redondo Beach, and Torrance, and offers the best available service and state-of-the-art resources to its patients.
The presenting media sponsor of the event is Southern California's classis rock radio station 100.3 The Sound. Clif Bar, a Big Bang sponsor and official race partner, will serve its energy bars and Clif Shots. Fresh Brothers Pizza will serve pizza samples at the event. There will also be a two-day Health & Wellness Expo.
Last year's male top finisher was Brandon Vientos of Torrance with a fast time of 15:22. Not too far behind was the female top finisher Tanya Zeferjahn of Thousand Oaks with a time of 16:43. This year's race is expected to be just as fast and competitive as last year!
Prior to the start of the race, there will be the Red, White, and Blue Costume Contest with cash prizes awarded for the best running costumes. All participants receive a 4th of July Run t-shirt. There will be chip timing, age division awards and cash prizes to the top three overall male and female runners in the 5K run. All kids' Firecracker Dash finishers receive medals too!
The men's overall winner and the women's overall winner for the 5K Run will be awarded the $200 cash prize. Second place winners are awarded $125, and third place winners are awarded $75.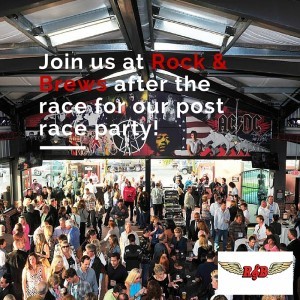 There will be a post-race party at Rock & Brews nearby at their PCH location.
To register for the race, visit www.villagerunner.com and click on the event and registration link. Registration fees are $25 for children and $35 for adults prior to June 5, 2016. Runners can register online or in person to register on-location right before the race starts on July 4th, 2016.