Former Marathon World Record Holder, Jacki Hansen, to present Laszlo Tabori with RUNNING ICON AWARD at 22nd Village Runner 4th of July 5K presented by UCLA Health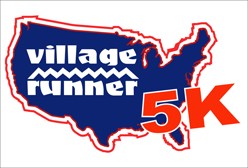 Redondo Beach, CA – July 4, 2015
Jacki Hansen, a pioneer in women's distance running who twice broke the world record in the marathon, has accepted an invitation to present Laszlo Tabori with the "Running Icon Award" at the 22nd Village Runner 4th of July 5K in Redondo Beach.  Tabori was the third man to break the 4-minute mile barrier, an Olympian, and a multiple world record holder.
Tabori coached Hansen for her entire career.  "All of my achievements were made possible by Laszlo.  He taught me the life lessons I needed to succeed: discipline, commitment, sacrifice, and work ethic.  He trained us as hard as the men and this really helped us," said Hansen.
She first set a marathon world best in 1974 with a 2:43.55 performance at the Western Hemisphere Marathon in Culver City.   Hansen recaptured the word record from Christa Vahlensieck of West Germany in 1975 with a 2:38:19 time at the Oregon Track Club Marathon in Eugene, becoming the first woman to break 2:40 in the marathon.   Hansen was ranked #1 in the world in the women's marathon for both 1974 and 1975.  Hansen had range as a runner from the mile, where she captured the AIAW Collegiate Championship in 1973, to the 10K, and beyond to the marathon.  Hansen is remembered for winning he 1973 Boston Marathon.   Hansen loves coaching and in addition to coaching elite athletes, she currently coaches cross country at St. Bernard High School in Playa Del Rey.
Hansen's day job is as a Professor at Loyola Marymount University in Westchester, CA, teaching health education to teacher candidates.   Hansen led the campaign for the IAAF to equalize the women's track and field programs at the Olympics with the men, as they eventually added the 5,000 and 10,000-meter distances as well as the marathon.  "By the time of the first ever women's marathon that took place at the 1984 Los Angeles Olympics, even though I qualified and ran the Olympic Marathon Trials, I was too old to be competitive with the elite women," stated Hansen. Hansen attended Granada Hills High, Pierce College, and graduated from Cal State Northridge.  She is currently in the National Distance Running Hall of Fame and also, the Cal State Northridge Hall of Fame.
Tabori has written a phenomenal book on his life and running entitled "Laszlo Tabori – The Legendary Story of the Great Hungarian Runner" and will be holding a book signing at both the Expo the day prior to the race, from

noon

–

3 p.m.

, and also, race day at the event. Laszlo Tabori is a worldwide running icon.  On May 28th, 1955 he became the third man to break the four-minute mile barrier, setting a European Record with a time of 3:59.0, joining Roger Bannister and John Landy in an elite group. That year he equaled the 1500m World Record with a time of 3:40.8. Under the tutelage of legendary coach Mihaly Igloi in 1955 Laszlo Tabori, Istvan Rozsavolgi, and Sandor Iharos set an incredible 23 world records over a two-year period.
In 1955 Laszlo Tabori was rated number one in the world for 1500 meters and the mile by Track & Field News. "It's an exciting time for me, as on this 60th Anniversary of breaking the 4 minute mile.  I am honored to be here at the 22nd Village Runner

4th of July

5K here in Redondo Beach, "said Tabori.  "Like my
Coach Mihaly Igloi told me, "I don't want a strong man, I want a fast man.' So, 'put your gets to it' and go run fast."
Even more impressive was his resolve as a participant in the 1956 Olympic Games in Melbourne, Australia.  Laszlo and his team were the favorites leading into the Games.  However, tragedy struck just before the Olympics began as the Soviet army invaded Hungary to put down the Hungarian Revolution.  Dealing with the travel complications, emotional and mental strain of his country's loss, Tabori still finished a very respectable 4th in the 1500m and 6th in the 5000m.
Laszlo chose not to return to Hungary after the Olympic Games and defected to America with his coach, Mihaly Igloi.  Tabori joined the American team, arriving in San Francisco on Christmas Eve. Within five days he was back on a plane heading for New York City, where he was issued a green card that would allow him to stay in the country. Tabori competed at a world-class level for several years, and would have been a medal contender in the 1960 Olympics if eligible. However, he could no longer run for Hungary, and wasn't yet a US citizen so he was denied a chance to compete at the 1960 Rome Olympics although he was one of the top milers in the world. Tabori retired from running in 1962.
Laszlo became an outstanding coach, much like his mentor Igloi.  His coaching methods are well founded and he is a great believer in the interval method of training.  He coached LA Valley Junior College in the 1970s where his team won three California JV state titles and set numerous school and state records.
He was a pioneer coaching women runners, and in 1978, he won the New York Road Runners' Club Coach Award for his outstanding contribution to woman's distance running.  World-Record holders Jacqueline "Jacki" Hansen, winner of the Boston and Western Hemisphere Marathons and Miki Gorman, a two-time winner of both the New York City and Boston Marathons, were two of his female athletes who achieved international recognition during the 1970s.
In 1979, Runners World magazine awarded Tabori the prestigious Paavo Nurmi Award for Coach of the Year. He was inducted into the Hungarian Hall of Fame in Budapest, Hungary in 1995 for his great accomplishments as a world-class athlete and Olympian. In 2002, Tabori received the Fair Play Award in Frankfurt, Germany given by the International Olympic Committee for lifetime achievement and outstanding contribution to the sport.
Tabori currently resides in Oak Park, CA.   Tabori was the distance coach for nine years for the University of Southern California's Track and Field team coaching NCAA champions and 800m National Champion and Olympian Duane Solomon. Tabori is currently in Hungary where a national track stadium will soon be named after him.  Tabori will be returning to the U.S. a few days prior to the race.
The 22nd Annual Village Runner 4th of July 5K is presented by UCLA Health.   Men's overall winner and the women's overall winner for the 5K Run will be awarded the $200 cash prize, second place, men and women, is $125, and third place, men and women, is $75. Rock & Brews, the renowned restaurant chain co-founded by KISS rock and roll stars Gene Simmons and Paul Stanley, will host the post-race party at its location within walking distance of the finish line.
UCLA Health, which has continued its expansion to better serve the South Bay, is the event's presenting sponsor and exclusive health care provider. UCLA Health now has offices in the South Bay communities of Manhattan Beach, Redondo Beach, Torrance, and Palos Verdes, and offers the best available service and state-of-the-art resources to its patients. Clif Bar will serve its energy bars and Clif Shots at the event.  Charity beneficiaries include after-school programs and athletic programs at South Bay-area high schools. There will also be a two-day Health & Wellness Expo.
To register for the race, visit:  www.villagerunner.com and click on the event and registration link. Registration fee is $40.00 per entry for the 5K Run/Walk (all ages). The Firecracker Dash, kids' ages 4-12, is $30.00.  Kids wanting to run in both the 5K Run/Walk and the Firecracker Dash must register for each event. Runners can either register online or come in person to register on-site before the race starts on July 4th, 2015.
Media Contact: Don Franken Office (310) 342-0260, Cell (310) 962-3297