Olympic Trials Marathon Challenge is Nothing Compared to Outrunning a Bear
Redondo Beach, CA – 'Paredes Enters Village Runner Saint Patrick's Day 5K' Mar. 13, 2016
Olympic Trials marathon competitor Juan Paredes of East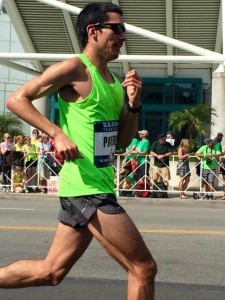 Los Angeles has entered the 13th annual St. Patrick's Day 5K, taking place on March 13th in Redondo Beach. Although Paredes is a Southern California local born in Orange County, who started his running career at Santa Ana High School, this will be his first time running in Redondo Beach. This will also be his first race since running the Olympic Trials. This race benefits the American Cancer Society.
Paredes, who usually sticks to shorter distances, ran his first ever marathon at the Olympic Trials. "The Olympic Trials was the biggest race of my life," said Paredes. "It was exciting to be on the starting line with Meb, Galen Rupp, and the nation's best distance runners."
The challenge of the marathon, however, was nothing compared to when he had to outrun a bear and its cub while at a training camp in Mammoth, California. Paredes was out on a run when he came across the bears, and quickly ran in the other direction as the bear seemed to pursue him. Thankfully, the bear didn't chase him for long. "I think I ran a new record for about 30 seconds," said Paredes of the incident.
Paredes has a very successful running background, with a personal best of 14:33 in the 5K and 30:01 in the 10K. He ran for the University of Santa Barbara, and ran his best in the 1500 meter race with a time of 3:45. With the St. Patrick's Day 5K being his first race since the marathon, Paredes is looking forward to testing his strength. "I hope to run the Saint Patrick's Day 5K in under 15 minutes," said Paredes.
Rebecca Soni – Honorary Host
Olympic gold medalist and South Bay local Rebecca Soni of Redondo Beach has been named
Official Co-Race Starter, along with Redondo Beach Mayor Steve Aspel, for the St. Patrick's Day 5K. Redondo Beach Councilman Jeff Ginsberg will be running the 5K and introducing Mayor Aspel at the event.
Soni, has won three Olympic gold medals and three Olympic silver medals during her swimming career. Along with being the honorary starter of the event, Soni will also be participating in the race. "Redondo Beach has provided me with a grown up playground for fitness and fun," said Soni.
Post Race Party at Rock and Brews
The St. Patrick's Day 5K has just added an exciting addition to this year's event! There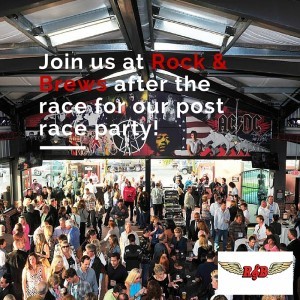 will be an official post-race party held at Rock & Brews, on PCH in Redondo Beach, just a short few blocks walk from the race finish line. Rock & Brews will have great happy hour drink prices and a special breakfast menu including a French toast special.
Fun Event Statistics
Entries are pouring in and 1,500 runners are anticipated to toe the line for the 13th annual St. Patrick's Day 5K, taking place in Redondo Beach on March 13th. Ages range from the youngest runner ever entered, one years old, for the Kid's Dash race to many senior runners. These include 24 runners entered in the 5K who are 70 years old and over, with three of them being 80, 84, and 85. Runners from all over the country are participating this year, including runners from Colorado, Virginia, Arizona, Illinois, Minnesota, New Hampshire, Michigan, and Missouri.
Race Charities
The Saint Patrick's Day 5K race honors the memory of Chase Stecyk, who grew up in Redondo Beach. Race participants are encouraged to
wear green in honor of Chase's favorite color and for his favorite holiday, Saint Patrick's Day. Chase was just eleven years old when he died of a tumor that paralyzed him from the waist down.  In memory of Chase, Director Mike Ward has renamed the Kid's Race to 'The Chase Stecyk Leprechaun Dash for Gold'. Proceeds from the race will go to charities supporting the memory of Chase Stecyk, in addition to helping out local high school cross country and track teams.
The Saint Patrick's Day 5K charity beneficiary is the American Cancer Society.  Partnering through Relay for Life, a percent of the proceeds will support the charity's cancer research and free patient programs. The American Cancer Society will put these donations to work, investing in groundbreaking research in every type of cancer and providing free information and services to cancer patients and their caregivers.
Additional Race Details
The 5K run/community walk and the Chase Stecyk Leprechaun Dash for Gold return to Redondo Beach on March 13th with the Race Expo starting at 6:30 am, the 5K at 8 am, and the kids races at 9:30 am in Riviera Village. All participating runners will receive a unique St. Patrick's Day themed T-Shirt. The race also features chip-timing and age division awards. There will be cash prizes awarded to the top three male and female winners. The men's overall winner and the women's overall winner will get $200, second place, men and women, $125, and third place, men and women, $75.
Race Sponsors
We're proud to welcome our new 2016 race sponsor for the St. Patrick's Day 5K, 3 Leaf Realty!
Some of 3 Leaf Realty's gorgeous properties are even along our beautiful course along the Esplanade with stunning views of the Pacific Ocean. Also, race supporters Healthy Spot pet stores and CenterCal will have a booth at the event.
Lucky 13!
The St. Patrick's Day 5K has become a tradition across the entire South Bay Beach Communities. The turnout is expected to be bigger than ever for the event's "lucky 13th" year. Activities include shamrock face painting, green and gold outfits, and a costume contest, making this one of the most exciting St. Patrick's Day events outside of Ireland! There will also be a 2-day Health and Fitness Expo, where local vendors and music will pump up race goers.
All participating runners will receive a unique St. Patrick's Day themed T-Shirt. The race also features chip-timing and age division awards. There will be cash prizes awarded to the top three male and female winners. The men's overall winner and the women's overall winner will get $200, second place, men and women, $125, and third place, men and women, $75. There will also be a team competition where the team with the top five fastest combined times will earn a special award. Race registration is $40 for adults and $30 for kids. Runners can register now at the Village Runner Website, www.villagerunner.com